Here's the answers to questions I've been asked about the patterns.
Question:
Yoda - just about to add the eyelash wool for his hair, do I carry on with it until work is finished or leave it out after 4 rows stocking stitch and start to decrease?
Answer:
Once you have joined the eyelash wool, continue knitting with eyelash until you have finished that section.
Question:
I have knitting the font and back of the tea cosy and I have two pieces but I'm a bit stumped as to what I do with them next.
Answer:
When you come to shaping the top, you work across the stitches that are already on your needle, and then work across those stitches from the stitch holder joining the two sides together. It saves a bit of stitching at the end and means that the top of the tea cosy only has one seam.
Question:
What is Double Knitting in America?
Answer:
In America, double knitting wool is referred to as DK or light worsted
Question:
I just bought your pattern for the shark tea cosy. You mention double knitting wool. I am writing from Australia would this be an 8 ply?
Answer:
Yes, 8ply would be the yarn you use for double knitting wool.
I have added a yarn conversion chart to help with all those yarn conversion questions.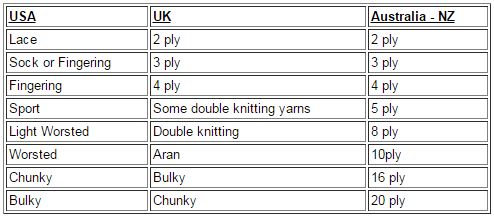 Narrowboat Tea Cosy
Question:
Just knitted the narrowboat but I must be missing something as I cannot work out from the instructions how to put the decks on
Answer:
Put the main tea cosy on the teapot and turn up the bottom of the boat to fold up on itself.
The front and back decks have a shaped flat surface which becomes the top part of the deck and then these is an inverted row of knitting which is a fold line, this is followed by a straight flap of knitting (this is the 'step' down to the bottom of the boat).

For both decks, find the centre point of the cast on edge and pin this to the centre most point of the front or back of the top part of the hull of the boat. Pint the centre in place and the rest of the deck will just fall into place around the hull. Sew all this into place.

Then as you can see in the diagram, the deck is folded at a 90 degree angle at the inverted row, and this flap just comes straight down to the bottom of the boat. Pin the bottom of the flap to the bottom of the hull side on both sides and the rest should just position itself. Then sew into place, remembering to leave an opening to stuff it.
I have drawn a diagram to show how to fit the decks, please forgive the quality but hopefully you'll see what I mean by it.